Dickson-Williams Mansion
• 108 N Irish St, Greeneville TN 37743
• 423-787-0500
Confederate cavalry hero Gen. John Hunt Morgan spent the last night of his life in this Greeneville showplace built in 1821. He was ambushed and killed in the home's garden Sept. 4, 1864. Much on the Civil War history during guided tours, including Morgan's room with its original furnishings. The building was used by officers of both sides during the war. Guided tours daily 1 pm. $10/adult. Civil War Trails signs.
Andrew Johnson National Historic Site
• 121 Monument Ave, Greeneville TN 37744
• 423-638-3551
JohnsonJohnson was a central figure in Tennessee before, during and after the Civil War. He came to Greeneville as a teenager and began a tailoring operation. Quickly becoming involved in politics, eventually he was elected governor and senator from the state before the war. Remaining loyal to the Union, he was appointed military governor of Tennessee in 1862 and was elected Lincoln's vice-president in 1864. Becoming president after Lincoln's death, Johnson was embroiled in Reconstruction politics and was impeached but not convicted by the Senate. He returned to Greeneville after his term as 17th president of the United States. A visitor center houses a very good museum and film and the Andrew Johnson Tailor shop. Make reservations for home tours there. Visitor center open 9 am–5 pm daily (home tours on the half hour).
Bridge Burners: Hangings at the Depot
• Trails sign at 103 Loretta St, Greeneville TN 37743
After Union sympathizers burned several area railroad bridges in November 1861, Confederate military authorities arrived to rebuild the bridges and catch the perpetrators. Two of the bridge burners were captured and held until they were hanged Nov. 30.
Tusculum College
• Trails sign at 60 Shiloh Road, Greeneville TN 37743
This building, Old College (1841), is the only structure remaining from the earliest days of the Tusculum College, the oldest college in Tennessee. Students here were divided on the secession question in 1861. Southern-leaning students burned then-Sen. Andrew Johnson in effigy before classes were finally suspended. The college suffered greatly during the war due to occupation by soldiers of both sides.
Battle of Blue Springs
• Trails sign at 6766 W Andrew Johnson Highway, Mosheim TN 37818
Union forces under Gen. Ambrose Burnside — on their way to relieve Chattanooga — were confronted by Confederates here Oct. 10, 1863. The Confederates withdrew following a day-long battle. Another Union force confronted Confederates here Aug. 23, 1864, with the same result.
Pottertown Bridge Burners
• Trails sign at 1270 Pottertown Road, Mosheim TN 37809
A memorial to the Unionists who burned area railroad bridges Nov. 8, 1861, stands in this cemetery along with the remains of two of the men hanged for the effort. The plans for the burnings, with strong support from the government in Washington, were made in this area. About 60 men took part.
Davy Crockett Birthplace State Park
• Unionist Stronghold
• Trails sign located in Davy Crockett SP at 1245 Davy Crockett Park Road, Limestone TN 37681
The citizens of Greene County overwhelmingly supported the Union cause. A June 1861 convention, involving 30 neighboring counties, met in Greeneville and asked the Tennessee authorities to allow the area to form its own state. The request was denied. Occupied by Confederate soldiers early in the war, area Unionists burned bridges and created problems throughout the war.
Russellville
General Longstreet's Headquarters Museum
• 5915 E Andrew Johnson Highway, Russellville TN
• 423-438-0968
Longstreet Hqt This building was Gen. James Longstreet's headquarters during the miserably cold winter of 1863–1864. Longstreet's troops suffered greatly that winter after abandoning the siege at Knoxville and before they were able to return to Lee's Army of Northern Virginia. Exhibits here include information about various battles fought in the area that winter. Civil War Trails sign.
Open Tuesday–Saturday 10 am–5 pm (March-December). $5/adult.
Morristown
• Bethesda Presbyterian Church
• Trails sign located at 4990 Bethesda Road, Morristown TN 37814
This church became a casualty of war. When hostilities broke out, parishioners bitterly took sides forcing the church to close. The church served as a hospital when Confederate Gen. James Longstreet brought his 25,000 troops to the area in December 1863. A cannon ball caused damage during an engagement a few months earlier. Although members of the church tried to reopen it following the war, hard feelings remained and the church remained closed.
Rose Center
• 442 W Second North St, Morristown TN 37814
• 423-481-4330
• The Rose Center has a good Civil War section.
Bean Station
Battle of Bean's Station
• Trails sign at 5980 Highway 11W South, Bean Station TN 37708
Confederates under Gen. James Longstreet, after abandoning their Siege of Knoxville, turned to fight their pursuers here Dec. 14, 1863. Longstreet won the battle (site now under Cherokee Lake) and occupied Bean's Station until withdrawing to Russellville to establish their winter camp.
Cumberland Gap
Cumberland Gap National Historical Park
• Visitor center located near Middlesboro KY off Route 25E
• 606-248-2817
This 20,000-acre park includes acreage in Tennessee, Kentucky and Virginia and offers both natural beauty and history. The strategic importance of this natural path through the mountains was recognized early by both sides. The Civil War history is explored in the visitor center, and some earthworks remain at Fort Lyon near the Pinnacle Overlook. Visitor center open 8 am–5 pm daily. Free.
Harrogate
Abraham Lincoln Library and Museum
• 6965 Cumberland Gap Parkway, Harrogate TN 37752
• 423-869-6304
Located at the main entrance to the Lincoln Memorial University, this museum features significant art and artifacts from the museum's 30,000-item collection devoted to the president's life plus other Civil war material. Open Monday–Friday 9 am–4 pm, Saturday 11 am–4 pm, Sunday 1–4 pm. $5/adult. "Lincoln and the Cumberland Gap" Trails sign.
Elizabethton
Sam Carter
• Trails sign located at 801 E Elk Ave, Elizabethton TN
Trails sign is located near the home of Adm and Gen Samuel P Carter, the only officer to wear two stars in both the U.S. Army and Navy. Carter remained with the Union when war broke out and served in east Tennessee. He later commanded the XXIII Corps during the 1863 Knoxville Campaign. He returned to naval service after the war.
Rogersville
Kenner House
• Trails sign located at 403 E Main St, Rogersville TN
The Bynum family owned this house and land, valued at $140,000 just before the war. John Bynum helped raise the first Confederate unit from the county in 1861. Bynum was killed in 1862 about three blocks from here, a victim of a long-simmering feud. His wife, Nancy, remarried to Confederate Capt. Henry Boyle Clay, grandson of Henry.
Decatur
Wheeler's Third Raid
• Trails sign located at 17214 State Highway 58, Decatur TN (Meigs County Courthouse)
Confederate Gen Joseph Wheeler, ordered to disrupt the Union supply line into Chattanooga, crossed the Tennessee River near here Sept 30, 1863. Wheeler's cavalry, followed closely by Union Gen George Crook, did harass the Union line, but the effort was temporary.
Bristol
East Hill Cemetery
• Trails sign at 601 E State St, Bristol TN 37620
Because of its location on the East Tennessee and Virginia Railroad, Bristol became an important Confederate medical center. This cemetery, divided by the state line, holds more than 300 Confederate soldier remains, many of the men died in the city's hospitals.
Kingsport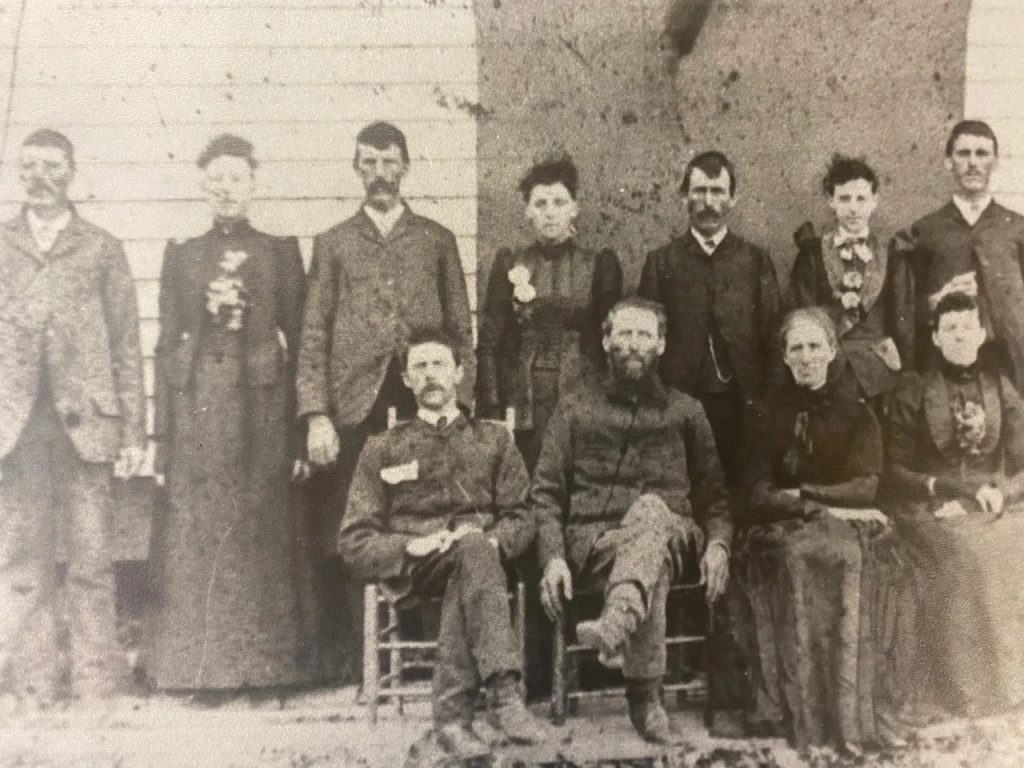 Battle of Kingsport
• Trails sign at 2201 Netherland Inn Road, Kingsport TN 37662
When Union Gen. George Stoneman's cavalry approached Kingsport Dec. 13, 1864, a small group of Confederate defenders stood here with the river between them. But the Union horsemen found a ford nearby and moved to flank the Confederate position, forcing them to withdraw.
Blountville
Battle of Blountville
Three Tennessee Civil War Trails signs describe the action here Sept. 22, 1863, during a battle for control of the vital Virginia and Tennessee Railroad. Federal guns on Cemetery Hill shelled Confederate forces in town, setting fires, before a late afternoon Union attack cleared Confederate resistance from the town. Trails signs are located at the Union and Confederate positions and at the Sullivan County Courthouse, the interior of which was burned during this action.
• 3411 Highway 126, Blountville TN 37617 (Courthouse)
• 147 County Hill Road, Blountville TN 37617 (Union position)
• 251 Franklin Drive, Blountville TN 37617 (Confederate position)
•Other related Blountville sites:
Old Deery Inn
• Trails sign at 3400 Block of Highway 126, Blountville TN 37614
When the fighting broke out, women and children sought shelter here. The families had to dodge bullets and cavalrymen before arriving here to safety. One early historian wrote that they were in more danger than the soldiers.
Cannonball House
• Trails sign at 3382 Highway 126, Blountville TN 37614
This house stood between the lines as fighting swirled around it during the battle. Although many houses and buildings in the area were destroyed, this one survived but bears the scars of the battle, now protected by Plexiglass.
Lenoir City
Lenoir Plantation
• Trails sign located at 200 E Broadway St
• Lenoir City TN 37771
A June 19, 1863, Union raid and subsequent Federal occupation changed the lives of the owners of the 2,700-acre plantation along the railroad line here. The Lenoir family later claimed damages of more than $70,000 including losses of livestock, timber and grain.
Lenoir's Station
• Trails sign located at mill site, 206 Depot St
• Lenoir City TN 37771
On June 19, 1863, in an effort to cripple Confederate held railroads in the area, Union troop led by Col. William P. Sanders attacked, destroying the depot, general store and Confederate military supplies here. According to local tradition, the mill was spared due to the exchange of Masonic signs between the owner and the Union military. After this encounter, Sanders continued east, destroying other railroad facilities.
Tellico Plains
Tellico Iron Works
• Trails sign at the Cherohala Welcome Center, 225 Cherohala Skyway, Tellico Plains TN 37385
The nearby iron works, owned by Unionist Elisha Johnson, was seized by the Confederacy early in the war. When Gen. William T. Sherman's Union soldiers marched into the area, Johnson was accused of supporting the Confederacy. Following a trial, Sherman spared his home but the iron works was destroyed in December 1863.
Big Ridge State Park
• Desperate Struggles
• Trails sign located in the park at 1015 Big Ridge Park Road, Maynardville TN 37807
The rugged terrain here sheltered a variety of deserters, escaped slaves and assorted refugees, making this a dangerous place to live. Most of the county was strongly Unionist but several families sided with the Confederacy, creating more tension. Both armies passed through here 1862-1863 with clashes erupting when Confederate Gen. James Longstreet camped here.
Indian Mountain State Park
• Conflict in Campbell County
• Trails sign located in the park at 143 State Park Circle, Jellico TN 37762
A large majority of the county's citizens voted against secession in 1861, yet Confederates occupied the area later in the year protecting mountain gaps and blocking access from Kentucky. Union troops regained control in March 1862 following an engagement at Jacksboro.
Friendsville
• The Underground Railroad
• Trails sign at 503 W Hill Ave, Friendsville TN 37737
Quaker families here helped conscientious objectors, Unionists and escaped slaves escape to the North during the war. As many as 2,000 people avoided capture while sheltered in a nearby cave.
Maryville
Maryville During the Civil War
• Trails sign at 301 McGee St, Maryville TN 37801
Fighting touched this county seat in August 1864 when Confederate cavalrymen attacked a detachment of Union cavalry here. The Confederates, hoping to smoke out Union resisters in the courthouse, set fire to nearby houses. The fire spread uncontrolled and destroyed much of the town but not the courthouse. This area, influenced by strong anti-slavery Quakers, voted decisively against secession in 1861.
Spring City
The Rhea County Spartans
• Trails sign at the Spring City Train Depot and Museum, 390 Front St, Spring City TN 37381
In the summer of 1862, 30 young women banded together to form the "Spartans" with the purpose of supporting their men in nearby Confederate cavalry. Still active during Federal occupation, some were accused of spying and arrested. Taken to Chattanooga, they were released eventually and brought home. But Reconstruction was hard on them, and most of the women left the area after the war.
Philadelphia
Battle of Philadelphia
• Trails sign located at the First Baptist Church, 408 Church St, Philadelphia TN 37846
Philadelphia was the southernmost Union-held town in the autumn of 1863 as Union Gen. Ambrose Burnside's troops occupied Knoxville and the surrounding area. On Oct. 20, 1863, Confederate cavalry captured Union wagons gathering supplies then advanced on the town. Union troops went out to meet the attackers but were defeated, losing not only the wagons but pieces of artillery as well.
Loudon
Loudon Railroad Bridge
• Trails sign located in Sugar Limb Industrial Park, 250 Jamie Drive, Loudon TN 37774
The covered East Tennessee and Georgia Railroad bridge here was an important link between Chattanooga and Virginia. Confederates burned the bridge as they evacuated the area in September 1863. Union soldiers then established a rail base at Loudon, shuttling supplies across the river. Confederates again took control of the area a few months later, but were displaced by Union Gen. William T. Sherman's advance again in December. The bridge, rebuilt in 1864, was under Union control the rest of the war.
Johnson City
Tipton-Haynes Historic Site
• 2620 S Roan St, Johnson City TN 37601
This was the home of Landon Carter Haynes, a Confederate senator and supporter of states' rights in an area laced with strong pro-Union sentiment. He served in the Confederate congress 1862-1865. After the war he was pardoned by President Andrew Johnson but moved away, fearing reprisals from local citizens.
Niota
Niota Depot
• Civil War Trails sign, 201 E Main St, Niota TN 37826
This is the only Civil War-era station surviving along the East Tennessee and Georgia Railroad. Both sides vied for control of the railroad during the war with the Federals occupying Niota (then known as Mouse Creek) after September 1863. Gun ports in the walls created by Union soldiers still can be seen.
LaFollette
Big Creek Gap
• Civil War Trails sign located across from quarry site on Hwy 25W
This is one of the few natural openings through the Cumberland Mountains. Early in the war Confederates ringed the famous Cumberland Gap (about 30 miles northeast of here) with defensive works. Union forces exploited this gap in 1862, using it to flank Confederates in Cumberland Gap and force their withdrawal. Remains of Civil War fortifications are still extant in this area.
Charleston
Charleston on the Hiwassee
• Trails sign at Charleston City Park, 117 Worth St, Charleston TN 37310
The East Tennessee and Georgia Railroad bridge here – connecting Knoxville and Chattanooga — was an important supply line and tempting target during the war. Union loyalists burned it in Nov. 1861 and both sites damaged it during the war. Confederates raided a Union wagon train here Dec. 28, 1863.
Henegar House
• Trails sign located at 428 Market St NE, Charleston TN 37310
At various times, this home was headquarters for Union Gens. William T. Sherman and Oliver O. Howard and Confederate Gens. Marcus Wright and Simon Bolivar Buckner. On Nov. 30, 1863, Sherman received orders here to take command of the column moving to relieve Knoxville. The household was divided in loyalties: Owner Henry, was a Union sympathizer; his wife, Margaret Lea, held secessionist views.
Cleveland
Cleveland During the Civil War
• Trails sign at Museum Center at Five Points, 200 Inman St East, Cleveland TN 37311
Confederates occupied the area early in part to control the East Tennessee and Georgia Railroad. The railroad and the station here caught the attention of Abraham Lincoln, who compared the taking of this place to the "taking and holding of Richmond." Following the Battle of Missionary Ridge, Nov. 25, 1863, Union troops occupied and fortified the town, holding off a Confederate cavalry raid Aug. 17, 1864.
Coker Creek
Coker Creek, Caught in the Middle
• Trails sign located at 12197 Highway 68, Coker Creek TN 37314
Although not a site of a major battle, this community suffered constantly during the war from "irregular" troops from both sides. Stragglers, deserters, bushwackers and the movement of troops and supplies along present-day Route 68 provided near constant tension.
Greenback
National Campground
• Trails sign
• 1849 King Road, Greenback TN 37742
Union Gen. William T. Sherman created an armed camp in the area in November 1863 when he stopped here during his campaign to relieve the siege of Knoxville. In 1873 a camp of another sort was founded here in part to "allay the feuds engendered by the late national difficulties." Trustees were selected from both former Confederate and Union soldiers.
Morganton
Morganton Crossing
• Trails sign Morganton Cemetery
Union Gen. William T. Sherman's troops, marching north in November 1863 to relieve the siege at Knoxville, attempted to ford the shallows here but found the water too deep. Federal soldiers used wood from unoccupied barns and houses in Morganton to construct a bridge near here and continued the march. The town, a main shipping hub during the war, was flooded as a result of the Tellico Dam Project.
Sweetwater
Sweetwater Depot
• Trails sign 305 Main St, Sweetwater TN 37874
This was an important transportation center during the war thanks to the East Tennessee and Georgia Railroad that ran through town beginning in 1852. Military control over the railroad seesawed from one side to the other during September 1863 as armies maneuvered for control of Knoxville and Chattanooga. Confederate Gen. James Longstreet used the town and the railroad as a staging area for his campaign against Knoxville.
The Great Craighead Cave
• Trails sign 140 Lost Sea Road, Sweetwater TN 37874
This cave was rich in saltpeter, or niter, which was a key ingredient of gunpowder, obviously a much-needed commodity during the war. Contracts here required 250,000 pounds of the substance to be delivered to the Confederate powder works in Augusta, Ga., in 1862. But production never came close to that amount. The approach of Federal troops caused the works to be shut down in the fall of 1863.
Madisonville
War Comes to Madisonville
• Trails sign
• 105 College St, Madisonville TN 37354
This town was divided in its loyalties, as were many others in the area. Madisonville was occupied by both sides during the war and citizens turned out in support of one side or the other each time. Union troops destroyed the courthouse and damaged the jail in 1864. A monument to troops serving on both sides was erected in the courthouse square following the war.
Pleasant Hill
Affair at Cumberland Mountain
• Trails sign Pioneer Hall Museum, 10 East Main St., Pleasant Hill TN 38578
Near this location on Dec. 9, 1863, Union cavalry posted here was attacked by Champ Ferguson's guerrillas and regular Confederate infantry. Casualties were light but the Confederates looted the Union wagons and escaped.
Crossville
Cumberland County: Divided by War
• Trails sign located at 99 Municipal Ave, Crossville TN 38555
Divided loyalties in the county made things interesting — and dangerous — for its citizens during the war. County men served on both sides. Guerilla warfare was common here with operations conducted by Confederates Champ Ferguson and Col. John M. Hughes. The area was popular with foragers from both sides forcing some citizens to hide their produce.
Smithville
Dekalb County in the Civil War
• Trails sign located at One Public Square, Smithville TN 37166
Divided loyalties in the area extended to its leading political figures as Congressmen William B. Stokes and John H. Savage commanded soldiers on different sides. After the Confederate army withdrew in 1863, Union leader Stokes ruthlessly chased down guerrillas, earning him the hatred of Confederate-leaning citizens.
Sparta
Civil War Around Sparta
• Trails sign located at the White County Courthouse,
• 1 E Brockman Way, Sparta TN 38583
An estimated 600 Confederate guerillas operated in this county, its population divided in its loyalties. Local Col. William B. Stokes used Sparta as a base of operations against the partisans. On Feb. 22, 1864, Stokes and about 80 men were ambushed by notorious guerilla Champ Ferguson in the "Battle of Dug Hill" fought 10 miles north of here.
France Cemetery
• Trails sign located at 11140 Monterey Hwy (Hwy 84), Sparta TN 38583
Champ Ferguson, notorious Confederate guerilla leader is buried in this cemetery. He was known for settling old scores in the area and was accused of directing his soldiers to murder wounded and captured black Union troops during the Battle of Saltville (VA). Arrested after the war, Ferguson was tried and convicted of 53 counts of murder and hanged.
Livingston
Overton County Courthouse
• Trails sign located at 100 Court Square, Livingston TN 38573
Overton was plagued by guerrillas of both sides during the war. Residents felt threatened early when Confederate troops were withdrawn from the area and periodically saw fighting related to active guerrilla activity in the area. The county courthouse was burned in the spring of 1865 when Confederate supporters raided the town.
Camp Zollicoffer
• Located at Bud's Groceries, 714 Hilham Hwy, Livingston TN 38570
A Confederate induction and training base operated here during the first months of the war. Thousands of soldiers entered the army here but found limited resources including a shortage of weapons. Many units created here fought throughout the war including the 28th Tennessee Infantry, which fought in most of the major battles in the West and surrendered at Greensboro NC.
Heart of Controversy
• Trails sign at 104 Bethlehem Road, Livingston TN 38570
Trails sign here tells local Civil War stories including a local school teacher who stood up for a visiting speaker who was to present pro-Union views in 1861. She was threatened for her opinion and similar threats kept the speaker away. Other stories include a local slave who went through the war with his master and a delegate to the 1861 Peace Conference – both buried here.
Monroe
Camp Myers
• Trails sign located at the Monroe Fire Department, 3416 Byrdstown Hwy, Monroe TN 38573
Camp Myers was another of the early Confederate camps established early in the war to train raw recruits. It also became a military outpost helping to secure the border with Kentucky. Among the troops trained here were members of the 25th Tennessee infantry who fought in the West and later transferred to Lee's army in Virginia.
Hilham
John Hunt Morgan
• Trails sign located at Mayhue Masters General Merchandise, 3252 Hilham Hwy, Hilham TN 38568
Recruits from the area fought with the famed Confederate cavalryman, who passed through this country often on his raids north. Morgan first came here July 7, 1862, as he moved toward Kentucky for his successful raid there. Many local men were captured with Morgan during his ill-fated adventure into Ohio and Indiana in the summer of 1863.
Dandridge
Attack on Dandridge
• Trails sign at the Bradford Hynds House, 1214 Gay St, Dandridge TN 37725
As Confederate Gen. James Longstreet's 20,000 Confederates approached town from three roads Dec. 17, 1863, Union commanders met here and decided to withdraw their vastly outnumbered troops to Strawberry Plains. The Confederate high command occupied the same house the next morning.
Blant's Hill
• Trails sign at 1820 Indian Creek Road, Dandridge TN 37725
Well-positioned fortified Confederates here turned back Union cavalry under Gen. Samuel D. Sturgis Jan. 2, 1864. Confederate losses were described as "minimal" while the Union cavalry lost 300 troopers.
Battle of Hay's Ferry
• Trails sign at the French Broad Baptist Church, 2117 Oak Grove Road, Dandridge TN 37725
Fields of corn growing here between the lines during the war (the site now underwater) were a temptation for hungry soldiers on both sides – especially the starving Confederates. On Dec. 24, 1863, Union cavalry was dispatched to clear out Confederate foragers here. In a running battle beginning near here, arriving Confederates pushed the Federals back.
Talbott
Kimbrough's Crossroads
• Trails sign at the Ebenezer Methodist Church, 1122 Ebenezer Church Road, Talbott TN 37677
As the armies settled into winter camps in the area, cavalry units from both sides patrolled the roads. Here, Jan 14, 1864 those units clashed in a sharp battle near Ebenezer Church. The Union horsemen withdrew after Confederate reinforcements arrived. The same units fought in Dandridge three days later.
Jefferson City
Mossy Creek Engagement
• Trails sign at the National Guard Armory, 210 E Old A.J. Highway, Jefferson City TN 37760
Southern cavalry attacked threatening Union troops here Dec. 29, 1863, as the Confederates prepared to go into winter camp nearby. Among those participating in the battle was Union Capt. Eli Lily, who later developed a successful pharmaceutical company.
Pigeon Forge
Unionists Within the Confederacy
• Trails sign located at 160 Old Mill Ave, Pigeon Forge TN 37863
Unionists here opened a secret garment factory in the mill early in the war, making cloth for uniforms and shoes for Federal soldiers. Driven underground during Confederate occupation of the area, local Union home guard reemerged after the Battle of Knoxville in 1863, capturing several Confederate raiders.
Kingston
For the Union
• Trails sign at the Historic Roane County Courthouse, 119 Court St, Kingston TN 37763
Road and river routes made this town, overwhelmingly Unionist, an important prize during the war. It was occupied by both sides and its citizens endured frequent skirmishing and foraging. The historic county courthouse served as military headquarters, hospital and observation post.
Pikeville
Pikeville During the Civil War
• Trails sign at the Bledsoe County Courthouse, 478 Cumberland Ave, Pikeville TN 37367
Confederate Gen. Braxton Bragg led his army north through here en route to his invasion of Kentucky in 1862. He used the courthouse here for a hospital. Two years later Union troops scattered about 600 Confederate defenders. The Federals destroyed the hotel here and recruited 200 loyal mountaineers into the Union army during their stay.
Monteagle
Crossroads of War
• Trails sign in Hannah Park, 16 Dixie Lee St, Monteagle TN 37356
In the summer of 1862, Union and Confederate forces vied for advantage in this rugged, scenic terrain. Union Gen. George Thomas, operating under Gen. Don Carlos Buell, found it difficult to maneuver over the rough ground and was unable to stop Confederate Gen. Braxton Bragg from moving north into Kentucky.
Lewisburg
Civil War in Marshall County
• Trails sign at the Marshall County Courthouse, 1106 Courthouse Annex, Lewisburg TN 37091
This county overwhelmingly supported the Confederacy, raising at least 20 companies of county men enlisted in the Southern service. Union soldiers marching through the county took papers and law books from the first county courthouse here but did little physical damage. The boyhood home of Nathan Bedford Forrest is nearby.
Sevier
Battle of Fair Garden
• Trails sign on the Walters State Community College, Old Newport Highway, Sevier TN 37876
Fighting over fords and foraging grounds erupted here during the end of January 1864. Union cavalry won initial victories before hitting Confederate Gen. James Longstreet's infantry near Dandridge. The outgunned Federal troopers withdrew, giving up the valuable winter foraging areas.
Maynardville
Walker's Ford
• Trails sign at Hickory Valley Baptist Church, 2229 Walkers Ford Road, Maynardville TN 37807
In late 1863, as Union infantry marched toward Knoxville from the south, Federal cavalry was ordered to support the effort by putting pressure on Confederate Gen. James Longstreet's troops from the north. Longstreet ordered his own cavalry to stop it. The two forces met near here and in a lopsided fight, Union troopers forced the Southerners back to Knoxville.
Blaine
Blaine's Crossroads
• Trails signs at the Blaine Town Hall, 220 Indian Ridge Road, Blaine TN 37709
Following James Longstreet's defeat at Knoxville in November 1863, the Confederate general led his troops northeast hoping to intercept and defeat a Federal column headed toward that city. The two forces met at the Battle of Bean's Station with the defeated Federals falling back to Blain's Crossroads. The Union soldiers entrenched and were reinforced here. The half-hearted Confederate pursuit ended but skirmishing in the area continued until spring.
Janeway Cabin
• Trails sign located at 2220 Indian Ridge Road, Blaine TN 37709
This was the home of John Janeway, a Union veteran, and his wife Gertrude. Janeway was captured in Macon GA and held in a Confederate prison until his release in December 1864. Janeway, at 81 years old, married Gertrude, then 18, in 1928. She died the last Union widow in 2003.
Dunlop
Thunder in the Valley
• Trails sign located at the Veteran's Memorial Park, 858 Cordell Drive, Dunlop TN 37327.
The fight for Chattanooga touched the southern part of the county Oct. 2, 1863, when Confederate Gen. Joseph Wheeler attacked a 1,000-wagon train full of supplies. That raid set a single-day record for destroying Union property. Union forces controlled the county for the remainder of the war although raids continued.
Roan Mountain State Park
Carter County in the Civil War
• Trails sign located in Roan Mountain SP at 1015 Highway 143, Roan Mountain TN 37687
The Carter family was prominent in this county torn by conflicting loyalties. The Carter family home in nearby Elizabethton is the oldest frame building surviving in the state. One member of the family, Samuel P. Carter, became a Union general who raised troops in the area and participated in burning railroad bridges in the area.
Frozen Head State Park
Civil War in Morgan County
• Trails sign located in Frozen Head SP at 964 Flat Rock Road, Wartburg TN 37887.
Most of the residents of this rugged country voted against succession and left when Confederates soldiers arrived early in the war. Tensions remained high, however, as Unionist home guards and regular troops campaigned, foraged and raided in the area. It took years for the county to recover from the economic damage suffered during the war.
Hiwassee/Ocoee State Park
Foraging and Fighting
• Trails sign located in Hiwassee / Ocoee SP at 404 Spring Creek Road, Delano TN 37325
Following the Battle of Knoxville in November 1863, occupying Union forces in the area busied themselves foraging the rich farmland and fighting off guerilla attacks. Civilians on both sides asked for Union help in fighting off the Confederate partisans, made up, reportedly, with paroled Vicksburg prisoners.
Lake City
Civil War in Anderson County
• Trails sign located in Norris Dam State Park at 125 Village Green Circle, Lake City
Bushwhackers, draft dodgers and other irregulars from both sides made this an uncomfortable area during the war. Some of the resentments created by this conflict lasted well beyond the war.
Wartburg
Wartburg in the War
• Trails sign located at the Morgan County Courthouse, 415 N Kingston,Wartburg
Morgan County, like most of East Tennessee, harbored strong Union sentiments when the war opened. Many residents fled to Kentucky to avoid Confederate service. Some remained as Union home guard. This led to numerous clashes as both sides vied for control over transportation and communication corridors in the area. Lawlessness ruled the area until Union forces took control of the region following the Knoxville Campaign.