After His Stunning Victory at Second Manassas Aug. 28-30, 1862, Confederate Gen. Robert E. Lee Decided to Seize the Initiative, Relieve Virginia and Threaten Washington by Marching North. In Early September, Lee Led His Ragged Army of 55,000 across the Potomac River at White's Ford near Leesburg. By Sept. 7, the Confederate Army Was Marching into Frederick.
An Alarmed Union Gen. George McClellan, Restored to Command of the Primary Federal Army, Pulled Together Disorganized and Defeated Union Forces and Pursued. Lee Hoped the Citizens of Maryland Would Rally to His Army, Welcoming His "Invasion" as They Would a Liberator. Instead, Few Helped or Joined His Forces. Nevertheless, Lee Continued North, Concentrating at Hagerstown for a Possible March into Pennsylvania.
Among Lee's Concerns Were Union Garrisons Threatening His Communication and Supply Lines behind Him at Harpers Ferry and Martinsburg.
The Confederate Commander Divided His Army to Take Care of the Problem. He Sent Stonewall Jackson and Others South to Neutralize Harpers Ferry. Other Confederates Moved West across South Mountain, Then North toward Hagerstown.
As Lee's Troops Scattered, McClellan's Amry Moved into Frederick. The Union Commander Got a Break. A Copy of Lee's Orders Outlining His Army's Division – The Famous Special Order 191 – Was Found in a Newly Abandoned Confederate Camp South of Frederick near the Monocacy River. McClellan Moved Quickly. Hoping to Catch Lee before He Could Reunite His Army, the Federal Commander Drove toward South Mountain. Confederates Put up a Fight There Sept. 14, Occupying the Gaps and Buying Time for Lee to Gather Strength.
The Union Garrison at Harpers Ferry Surrendered Sept. 15. Lee Ordered Jackson and Others to Return Quickly as the Confederate Commander Desperately Tried to Concentrate near Sharpsburg. McClellan, after Brushing Aside Resistance at South Mountain, Bore Down with Vastly Superior Forces.
Both Armies Maneuvered Warily on Sept. 16. Then, on the Misty Early Morning of Sept. 17, 1862, the Armies Collided. On the Ridges above Sharpburg and along Antietam Creek, American Soldiers Met in the Bloodiest Day of the War.
Neither Side Gained a Real Advantage during the Fighting That Day, but a Disappointed Lee Eventually Withdrew across the Potomac River at Shepherdstown, Leaving a Trail of Wounded Soldiers in Public Buildings and Private Homes.
Lee's Adventures North of the Potomac Were Costly to Both Sides. Lee Casualties Totaled More than 13,000 Men, McClellan Lost Twice as Many Including Those Captured at Harpers Ferry.
The Antietam Campaign Trail
A Driving Tour Follows the Routes of Union and Confederate Soldiers in September 1862 as They Marched through Maryland toward What Would Be the Battle of Antietam. The Route Begins with Robert E. Lee Crossing the Potomac River into Maryland at Whites Ford, Then Moving Quickly toward Frederick. Driving Tour Stops Explore the Cavalry and Infantry Action along the Way. Several Trail Stops in the Frederick Area Explain the Reaction of the Town to the Soldiers' Passing. After Frederick, the Tour Continues through Middletown to South Mountain. Tour Stops at Each Gap Highlight the Fighting on Sept. 14, 1862. The Driving Tour Continues to the Antietam Battlefield.
Loudoun Museum
16 Loudoun St, Leesburg VA 20175
"Gateway" Sign and Museum Exhibit Begin the Trail near Lee's Headquarters before His March into Maryland.
Mile Hill
Trails Sign On Tutt Lane, Just West of Route 15, North of Leesburg
Small Cavalry Action Here Sept. 2 Clears the Way for Lee's Infantry to the River Crossings.
White's Ferry, White's Ford
Potomac River Ferry Located at 24801 Whites Ferry Road, Dickerson MD
Signs at the Modern Ferry Crossing and the Nearby Historic Ford Describe the Crossing of Most of Lee's Army Early September 1862.
Poolesville
Trails Sign at Intersection of Fisher Avenue (White's Ferry Road) And Elgin Road in Poolesville MD 20837
Begins a Series of Signs Focusing on Cavalry Action, Screening by the Confederates, Probing by the Federals.
Beallsville and Barnesville
Trails Sign at Darnsville Road and Beallsville Road, Beallsville MD 20839
Running Cavalry Fight Sept. 9 Disrupts Small Communities.
Comus
Trails Sign at the Comus Inn, Corner of Old Hundred and Comus Roads, Dickerson MD 20842
Confederate Cavalary Fight Successful Rear-Guard Action Here Sept. 9-11.
Sugarloaf Mountain
Trails Sign at Intersection of Sugarloaf Mountain and Comus Roads, Dickerson MD 20842
Signalmen from Both Armies Used This Prominent Location at Different Times during the Campaign.
Monocacy Aqueduct
Located at Mile 42.1 on the C&O Canal at End of Mouth of Monocacy Road West of Dickerson Road, near Dickerson MD 20842
Trials Sign Located in C&O Canal Park West of Route 28. Two Early-September 1862 Confederate Attempts to Destroy This Massive and Important Canal Structure Failed.
Monocacy River Ford – "Gateway" Sign at the Site of Popular River Crossing.
Carrollton Manor
Trails Sign on Route 85 (Buckeystown Pike) South of the Intersection with Greenfield Road
Landscape Little Changed from When Confederate Infantry Camped Here.
Buckeystown
Trails Sign In Buckeystown Park, Michael's Mill and Fingerboard Roads, Frederick MD 21704
Hungry Confederate Marchers Ate Bread Baked Here.
Hyattstown – Cavalry Action Swirled around Here for Days Sept. 8–11.
Landon House
Trails Sign at the House, 3401 Urbana Pike, Urbana MD 21704
Gen. J.E.B. Stuart's Confederate Cavalry Occupied Urbanna While Lee's Soldiers Camped a Short Distance North. On the Night of Sept. 8, Stuart's Men Hosted a Ball Here. It Was Interrupted by Reports of Nearby Union Cavalry. The Event Has Become Known as the "Sabres and Roses Ball."
Monocacy National Battlefield – Although Most of the Interpretation Is Devoted to the 1864 Battle, the National Park Does Help Explain the Confederate Camps Here in 1862 and the Famous "Lost Order" Found after Lee's Infantry Left. The Order Outlined Lee's Plans and Troop Dispositions and Propelled Union Gen. George McClellan in Pursuit.
Frederick – Interpretive Signs at the Barbara Fritchie House, National Museum of Civil War Medicine and the Frederick City Hall.
Middletown (Reformed Church)
Trails Sign at the Church, 12 S Church St, Middletown MD 21769
Confederates Used This Road to Reach Harpers Ferry. The Union Army Split near Here to Attack the Different South Mountain Gaps.
Middletown
Trails Sign at the Central Maryland Heritage League, 200 W Main St, Middletown MD 21769
Confederates Who Passed Through Here toward South Mountain Remembered Defiant Unionist Townspeople. Wounded from the Battle, Including Future President Rutherford B. Hayes, Were Brought Here.
Battle of Maryland Heights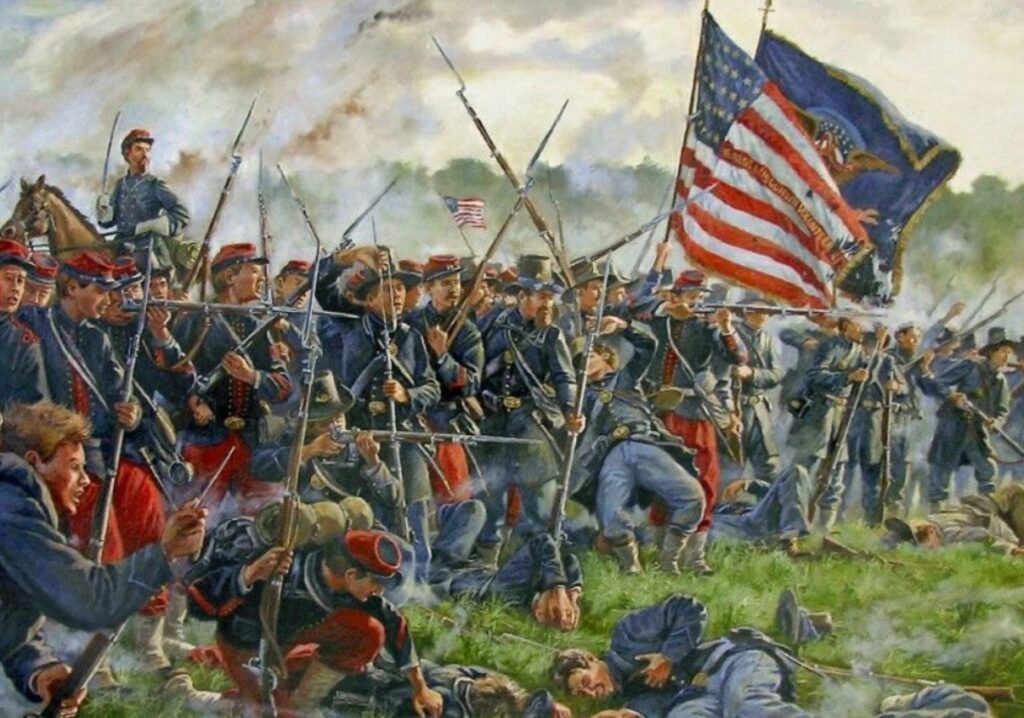 Trails Sign at the Brownsville Church of the Brethren, 1911 Rohrersville Road, Brownsville MD 21715
View from Here Highlights the Confederate Troop Movements and Battle Fought for Maryland Heights, One of the Heights Surrounding Harpers Ferry Sept. 12-13, 1862. The Confederate Victory Here Helped Seal the Fate of the Large Union Garrison at Harpers Ferry. Nearly Surrounded, the Federals Surrendered Sept. 14.
Burkittsville
Trails Sign on the Grounds of the Resurrection Reform Church, 3 E Main St, Burkittsville MD 21718
Tiny Town at Base of South Mountain Was Filled with Wounded Soldiers after the Fighting. Was Staging Area for Union Attacks at Crampton's Gap.
• Crampton's Gap – Series of Signs Describes Action Here and Post-war Correspondent's Arch in Gathland State Park.
• Fox's Gap – Group of Signs with Focus on Fighting at This Gap Sept. 14.
• Turner's Gap – Group of Signs Describes the Action Here as Confederates Make Tough Defense at This South Mountain Gap.
• Washington Monument – This Prominent Site near Turner's Gap Was Used as a Lookout Station.
Signboonsboro
Trails Signs at North Main Street and Shafer Park Drive
Lee Was Here during Battle of South Mountain.
Keedysville
Trails Sign on Taylor Drive at N Main St, Keedysville MD 21756
Both Armies Passed Through Here toward Sharpsburg, Just Down the Road. Many Wounded Treated Here after the Battle.
Antietam Battlefield
• Grove Farm
• Antietam Station
Civilwartraveler.com/East/MD/Antietam.HTML
Related Trails Signs in West Virginia
• Shepherdstown
• Moler Crossroads
C&O Canal Aqueduct
Trails Sign near the Canal Visitor Center, 205 W Potomac St, Williamsport MD 21795
Stonewall Jackson and His Detachment Crossed the Potomac Here September 11, 1862, en Route to Harpers Ferry. The Round-about Route He Chose Put Him behind Schedule.
Westminster – The Rosser Raid
Trails Sign at 79 W Main St, Westminster MD 21158
On Sept 11, 1862, Confederate Cavalry Rode into Westminster in a Sudden and Unexpected Raid. The Townsfolk Greeted the Southerners Warmly. Their Commander, Col. Thomas Rosser, Was Treated to a Fine Dinner at the Home of John Brook Boyle. The House Is Still Known as "Rosser's Choice." after Camping for the Night, the Confederates Rode Off in the Direction of South Mountain the Next Morning.