Corinth
Located at the junction of two critically important railroads, the Memphis and Charleston and the Mobile and Ohio, Corinth was a military prize from the early days of the war. The Union campaign in early April 1862 that was halted momentarily by the Battle of Shiloh (at Pittsburg Landing) was aimed at Corinth.
Following Shiloh, a huge Union army group began a slow and methodical march toward Corinth, 22 miles south. Confederates in Corinth, tending their wounded from the battle in vast hospitals, evacuated the heavily fortified railroad town May 29–30.
With the fall of Corinth, two major rail "trunk lines" connecting all parts of the Confederacy were cut. The Confederates tried to retake Corinth later that year but were defeated in a bloody battle Oct. 3–4. Union troops occupied Corinth until they left in late January 1864. They burned most of the public buildings and dismantled the railroads.
An estimated 300,000 soldiers from both sides passed through Corinth during the war. The town played host to more than 200 Confederate and Union generals. Many of the town's Civil War-era buildings remain, including homes used by commanding generals. The site of a large "Contraband Camp" for ex-slaves, the location of many extant Union earthworks, and the famous rail crossing itself are all part of walking and driving tours of the town.
Pick up tour info at the town visitor center, 215 N Fillmore St. See corinthcivilwar.com for more Corinth Civil War information.
Corinth Interpretive Center (NPS)
501 W Linden St, Corinth MS 38834
662-287-9660
The thoroughly modern National Park Service interpretive center is located near the site of Battery Robinette, a key Union fort assaulted during the October 1862 battle here. Multi-media presentations explain the Battles of Shiloh and Corinth, and exhibits detail the importance of Corinth during the Civil War and the many roles this small town played. A full-scale model of a field fortification and a monument at the site of the historic battery stand just outside the 15,000-square-foot visitor facility.
Pick up maps and other information here about Corinth-area Civil War sites and tours of the Corinth Campaigns sites (April/May, September/October).
This site is administered by the Shiloh National Military Park (link). Be sure to request material for a special historic tour between the two sites.
Open daily 8 am-5 pm. Free.
Corinth Civil War Driving Tour
Tour includes surviving 1862 fortifications,, the Corinth Contraband Camp and historic houses including the Curlee-Verandah House (headquarters for Gens. Bragg, Van Dorn, Halleck and Hood), Fish Pond House (Gens. Beauregard and Breckinridge) and Oak Home (Gen. Polk) Download a tour brochure from www.corinth.net.
Crossroads Museum
221 N Fillmore St, Corinth MS 38834
662-287-3120
Located at the intersection of the historic Memphis and Charleston and the Mobile and Ohio railroads (one of the most critical intersections in the Confederacy), this museum outlines the area's rich history including Civil War and railroad exhibits.
Open 10 am-4 pm Tuesday-Saturday, 1-4 pm Sunday. $5/adult.
Iuka
Iuka Battlefield Tour
A driving tour covers key sites involved in this Sept 19, 1862, battle. Confederate forces under Gen. Sterling Price marched into Iuka, part of a larger plan to keep Union forces in the area during Gen. Braxton Bragg's move into Kentucky. Union Gen. U.S. Grant, fearing that Price was moving to Bragg, ordered two Union columns to converge on Iuka to stop him. After sharp fighting that resulted in more than 2,000 casualties (including half of the Confederates engaged), Price managed to escape.
Mississippi's Final Stands
Interpretive project encompasses battles fought in June and July 1864, which are considered the "last stands" of Confederate cavalry in Northeast Mississippi. Included in the project are the Battles of Brice's Crossroads (June 10, 1864), Battle of Tupelo (July 14, 1864) and the Battle of Old Town Creek (July 15, 1864). The project has provided expanded interpretation of these battlefields both on the ground and in the Mississippi's Final Stands Interpretive Center in the former Brice's Crossroads visitor center in Baldwyn. For more: www.finalstands.com.
ForrestBaldwyn
Battle of Brice's Crossroads
Mississippi's Final Stands Interpretive Center (formerly park visitor center)
607 Grisham St, Baldwyn MS 38824
(Near the junction of Route 370 and US 45).
662-365-3969
In early June 1864, Confederate Gen. N.B. Forrest was ordered to Tennessee to disrupt Union Gen. William T. Sherman's campaign against Atlanta by attacking his long and tenuous supply line. Sherman responded by sending a cavalry force of his own into Northern Mississippi, hoping to force Forrest to turn back. The plan worked. Forrest turned around and attacked that Federal cavalry under Gen. Samuel Stugis at Brice's Crossroads. The battle here July 10, 1864, was a decisive Confederate victory. But it succeeded for the Federals in another way: It drew Forrest away from Sherman's supply line.
Mississippi's Final Stands Interpretive Center offers exhibits and a video describing the Battle of Brice's Crossroads and the Battle of Harrisonburg/Old Town Creek (July 13–15, 1864). Open Tuesday–Saturday 9 am–5 pm. $5/adult. Pick up tour maps here locating several battlefield waysides and walking trails. The tour includes a small National Battlefield site at the crossroads.
Tupelo
Battle of Tupelo / Harrisburg
One-acre monument site located on Main Street (Route 6), Tupelo MS. Two small sites interpret the July 14-15, 1864, battle.
Tupelo National Battlefield
West Main Street at Monument Drive, Tupelo 38801
Needing to keep Confederate Gen. N.B. Forrest away from his supply lines during his campaign against Atlanta in 1864, Sherman was determined either to destroy the famed horseman or to keep him occupied in Mississippi. Following Forrest's decisive victory at Brice's Crossroads, Sherman sent a much larger Union force under Gen. Andrew Smith after him. After days of maneuvering toward the Mobile and Ohio Railroad, Smith occupied a strong position in Tupelo. The Confederates attacked there July 14 but failed to dislodge the Federals. A running battle followed the next day as both forces moved west of town toward Memphis. The result of the battle was inconclusive, but Forrest remained cooped up in Mississippi and away from Sherman's supply lines. Among the casualties here was Forrest himself, who was wounded.
A small park/monument marks the site of one of the hot spots during the July 14 battle, the Confederate attack on the Union right flank.
There are no visitor facilities at the site itself, but information about the battle is found at the Mississippi's Final Stands visitor center in Baldwyn (see above). Pick up tour information there. The Tupelo National Battlefield site is administered by the Natchez Trace Parkway, 800-305-7417.
Old Town Creek
Interpretive signs at pull-off at 3454 Mount Vernon Drive
Following the repulse near Tupelo July 14, Federal troops moved north and camped at Old Town Creek. The Confederates mounted a surprise attack on the camp July 15, but the Southerners were repulsed. Forrest was wounded during the fight and was kept out of action for three weeks. A 12-acre section of the battlefield has been preserved.
Tupelo Civil War Heritage Trail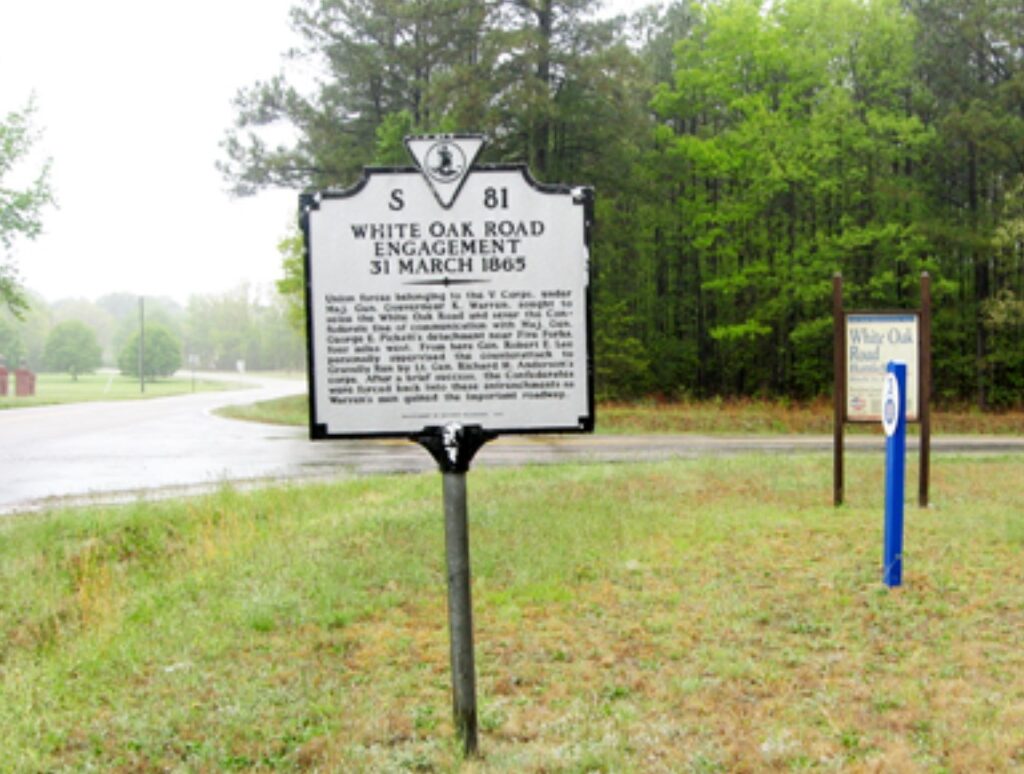 The Battle of Kings Creek
Interpretive sign located at Spring and Elliott streets Federal cavalry units operating on the outskirts of the Vicksburg Campaign, were attacked here May 5, 1863. The Confederate attackers were routed during a running battle fought on both sides of King's Creek.
Town Creek Tupelo Encampment
Interpretive sign located in Veterans Park, North Veterans Memorial Blvd Thousands of Confederate troops camped here at various times during the war. More than 60,000 soldiers rested and recuperated in the area following the battle of Shiloh in 1862. Another 20,000 Confederates found refuge here after the battles of Franklin and Nashville in late 1864.
Plank Road
Interpretive sign in Gateway Park on East Main Street Finding the area too swampy for efficient troop movement, Confederate Gen. John Bell Hood ordered a plank road built between his Tupelo camps. The road, built in the winter of 1864-1865, followed the course of modern Main Street.
Iron Furnace
Interpretive sign on Front Street, one block south of West Main Street at railroad tracks Area citizens suspected of Union sympathies were kept in a poorly ventilated building here known as the "Iron Furnace." Those found guilty of supporting the Union were executed. Union soldiers were kept in a wooden stockade nearby.
Younger Cabin
Interpretive sign on North Broadway across from the old courthouse This was the site of a modest cabin used for headquarters by a string of Confederate commanders including P.G.T. Beauregard, Braxton Bragg, Sterling Price and John Bell Hood.
Okolona
Battle of Okolona
20 miles south of Tupelo on US 45
A series of interpretive markers describe the running battle fought near here Feb 22, 1864. Confederate cavalry commander Gen. N.B. Forrest set a trap for a Union cavalry expedition cooperating with Gen. William T. Sherman's campaign to take the railroad center at Meridian. The Northern cavalry was beaten soundly and chased back to Tennessee.
A description of the battle and a map of the interpretive signs is available at the Okolona Chamber of Commerce, 219 W Main St, during business hours.
Okolona also was the site of an extensive hospital operation and is today the home of a large Confederate cemetery, South Church Street and Park Lane Drive.
Columbus
Friendship Cemetery
Fourth Street S, Columbus MS 39701
662-328-4164
Burial place of four Confederate generals, including S.D. Lee, and more than 2,000 other Southern soldiers. This is one of the claimants to the site of the first Memorial Day. Ladies decorated Union and Confederate graves here April 25, 1866.